7 Ways To Train For The Boston Marathon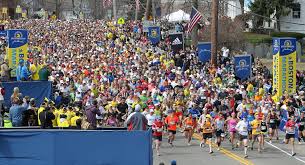 Whether you are a runner or not, you know there is one day in April that brings the Boston community together more than any other: Marathon Monday.
In 2016, over 26,000 people crossed that famous blue and gold finish line on Boylston Street, celebrating their accomplishment of running 26.2 miles for one of the best and most well-known marathons in the world.
The Boston Marathon has become the most loved marathon in the US, and is also extremely popular worldwide. Known for its charm, especially when the community came together after the tragedy in 2013, but also known for the hills that add a new level of torture to those final miles.
We know that the Boston area is hilly, and we know that the course has a lot of downhills in the first half, which can spell disaster if you get carried away, so how can runners prepare for the race to make the most of the opportunity to race in front of a home crowd?
So, here are 7 tips to help you prepare for the Boston Marathon:
Make downhills a priority in training
Even runners who do not live in Boston know that there are plenty of hills to keep you honest in your training. Hills are everywhere, in every city, and for that reason, a 26.2 mile race is going to cover a lot of them. The best way to prepare for a race with a lot of hills is to incorporate a lot of hill running into your training to best prepare for running on incline.
Obvious, right?
Just don't forget about running downhill as well! In fact, running on a decline can oftentimes be even tougher on your muscles than running uphill! Best practice: see if you can persuade a loved one to help you out with your training — get them to drop you at the top of one of the longer hills, and work your way back down, focusing on making sure you have the correct downhill running form.
If you are really convincing, they could do this a few times so you get a large volume of downhill running in one day.
Don't forget to go for some of these downhill runs on your hard workout days, as that will prepare your muscles for the pounding of those downhills when you are running at race day speed. If you notice you are particularly sore after one of these runs, that's a good indicator that you need the practice, and are preparing your legs for the day.
Learn how to run downhills correctly
Remember when you were a kid and running downhill was one of the most fun things you could do?
You could fly down the hill, leaning forward with a massive smile on your face, using the momentum of your body to kick your legs forward, faster, and faster!
But somewhere along the way, most runners ended up picking up bad form habits, such as leaning back to avoid the sensation of falling forward.
Instead, we want to get back to that kind of running, and away from controlling ourselves down the hill. Run downhill using the correct running form, and your body (and pace) will thank you.
Make strength training part of your routine
Hills beat up our body, I learned that one first hand recently at the California International Marathon. So to prepare for the sheer impact your body is about to endure on race day, you want to build up some muscle strength. The goal is to incorporate strength training into your race training in order to prepare those muscles that will be stressed during the ups and downs of a hilly course. As a result, your body will be much better prepared to handle the strenuous uphills and pounding downhills.
This can be achieved through plyometric exercises that get your body used to high impact movements or it could be through traditional strength training.
If possible, try to work with a strength training coach who can develop your individual weaknesses. But if that is unrealistic, a strength training for runner's program is a great second option.
Learn the course as best you can
With something like a marathon, the course can drastically affect the time you are able to run on that day, regardless of how well you have trained.
The more time you spend training on the various parts of the Boston marathon course, the better off you will be.
It doesn't matter if it's the 80% of the time you spend on easy workouts, or the hard workouts to get you ready for race day, it all gives you practice and confidence for the race.
It would be a good idea to do at least one long run on the course, with the Boston hills towards the end, so you can mimic race day and try some inclines when you're tired.
Add in recovery products
Racing a tough course like Boston will beat up your body more than flatter races. After the race itself, you can take some downtime to give your body time to recover, but during the training itself, you want to give your body the best opportunity to stay healthy and get to that start line.
This means utilizing your nutrition and considering recovery supplement such as foods like sweet potatoes, beets, tart cherry juice, sunflower seeds, and salmon are just a few of the 2 7 best recovery foods we have found. Products like Body Health Perfect Amino or E pic Protein Bars will give your body an extra boost during the most intense and monotonous weeks of marathon training.
The better your body is able to recover from training on those hills, the happier and better off you will be on race day.
Practice your fuel
If you are going to make it to the finish line without cramping or bonking, you will need to take on some fuel during the race.
As Olympian Jared Ward recently told us in his podcast interview, our stomach is just like every other muscle and needs to be trained for race day. This does not mean trying out new products the week of the race, but taking the few months before to try out products and see what sits well in your stomach and makes you feel good.
You might want to consider Cliff products as they are offered along the course, and will mean you do not have to carry your own.
If that is not a problem for you or if you struggle with gastrointestinal problems, Generation UCAN is probably the safest option to maintain your energy levels, but will require practice drinking while running.
While you are out training on the course, make an effort to take your fuel with you. The more you train your stomach to know how to utilize the fuel, the better off you will be.
Improve your pacing skills
This is probably the number one tip for racing well at Boston, but it comes at the price of our ego in the first half.
With the downhills in the first half, it can often feel very easy for runners, and if you are not careful, will end up a long way ahead of where you are supposed to be at halfway. Although it may feel good then, the fast early miles will come back to bite you even harder in the second half.
Time in the bank may sound like a good idea, but for most runners, you will lose more time than you gain...a lot more time!
Practice pacing in training, and learn how to control yourself when it feels easy. We have a race calculator to help you with this, that it would be a good idea to study well before race day.
The Boston Marathon is one of the best marathons in the world, but it can be one of the most difficult experiences if you do not prepare correctly. To learn more about how to be ready for this year's race, check out this Boston Marathon training guide.
Having friends and family coming out to support you helps to make it even more special, but if you are in so much trouble that you can't even recognize them, you will regret it. Pace yourself, and be ready for the best running experience of your life!