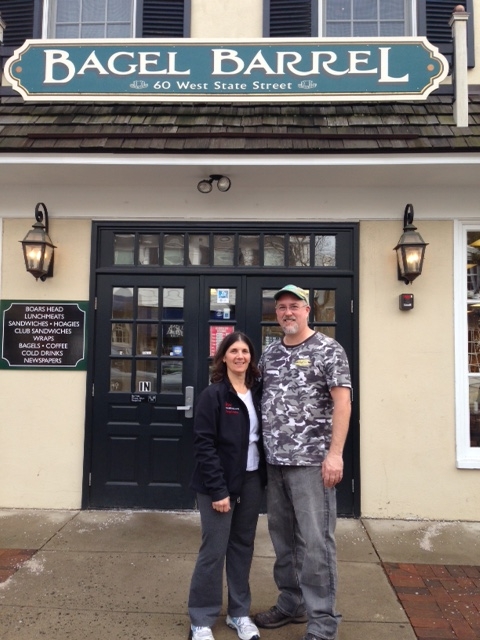 Bagel Barrel in Doylestown, meet the Owner Patrick Murphy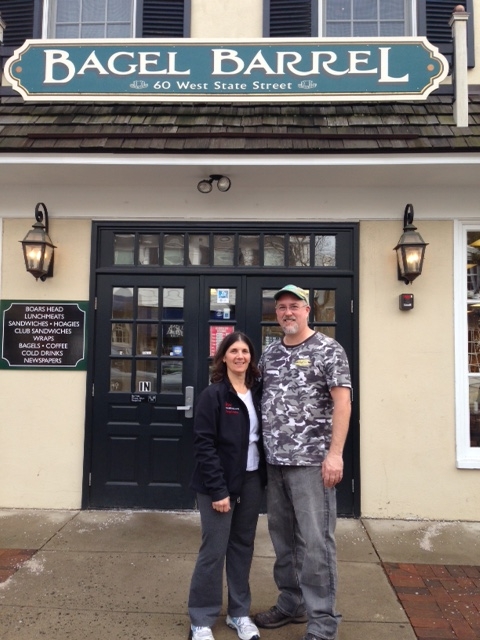 Interview with Patrick Murphy, conducted by local REALTOR® Cheryl Anton
Describe your business.
In how many words? An unbelievable, exciting bagel shop that deals with Boars Head lunch meats. All our bagels are made and baked fresh everyday; they're actually made by hand. I was trained by a 5th generation bagel maker in Princeton, NJ, named Alfred Kahn. His father, Mr Kahn told me stories about the bagel union (largest union in NYC) in the 1930's and how you had to be part of the family to open a bagel shop or you were "put" out of business. .
What made you decide to open this business?
In the early 80's-'90's, I worked in retail in Princeton, NJ and left early in the morning to avoid traffic. Since it was 40 minutes before I had to open the clothing store I was managing, I would go over to this bagel shop and help them make coffee before work and they would give me a free cup of coffee. I got fired from the clothing store and stopped to let the bagel shop know and to say goodbye, and by the time I got home, they already had my home phone number and had called to tell me to come in to talk because "we want you to work for us." Shortly after starting to work there, the owner fired his manager and brother in law for stealing from him..The owner said "I can't make you the manager because the other guy has been here a week longer than you. So he made me the assistant manager and gave me my pay raise on the spot. I worked there for 3 years and the boss says to me, "I have a problem, you stole from me." I said, "no I did NOT steal a dime from you" and he said "no, you stole knowledge, go open up your own shop."
What was it like when you first started?
At that time, the owner of Langhorne Ski Shop, where I had worked died. At his funeral, I ran into two guys I used to work with who asked what I was doing. I told them I wanted to open up a bagel shop in Doylestown and they asked "why would you choose Doylestown?" I told them it was an up and coming town, the largest employers are the courthouse and the hospital and it's a great town. In 1993, we opened up our shop. We had two choices, here and where the Hoagie Works is on Main St. I chose the location we're in now because it had two bathrooms and one was already handicap accessible. I said "if we have seating, that other place doesn't have a handicap accessible bathroom, and that's a $15,000 expense." My partners said, "good point!"
What has surprised you most when owning a business?
Your silent partners. The IRS, government, everything else. I didn't realize the amount of taxes and everything else you have to pay quarterly, monthly... Hire yourself a good accountant.
What would your customers say they love most about your business?
Great product and unbelievable personalities.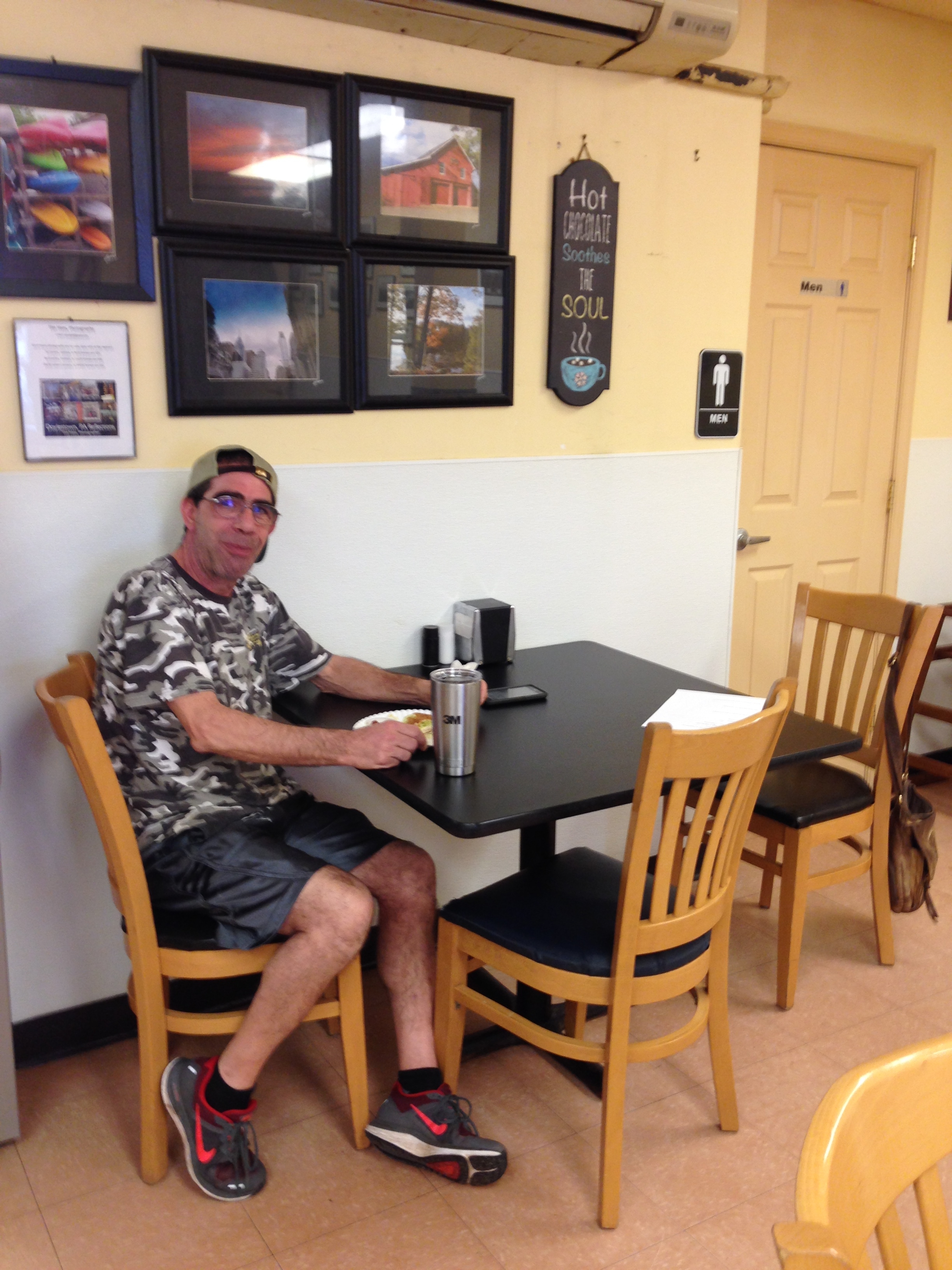 What's the most memorable experience you've had working with a customer?
When any little kid comes in and you give them a bagel for the first time, and their eyes light up.
Do you have any exciting plans for the future that you want customers to know about?
We're always hoping to expand, and it's a matter of where and when. We're always looking for different locations to open a second, third, fourth, even fifth location...
What is something most people don't know about the business?
How hard it actually is. We get here at 4 in the morning, and everyone thinks you just throw the bagels in and you're done. We have to boil, bake them and everything else, but then that dough I'm making right now, I roll it out on the table, and it has to rest for 12 hours. I can't just all of a sudden put it in a pot of boiling water and expect to make them; it has to rest. So the prep work to make a bagel is tough.
Who are some of your business idols and role models? And why?
One of my biggest role models was my old partner, Jim Costello. He was the vice president of Chess King, Inc and his office was in the Empire State Building. When he said "jump," 80 people out in the hallway jumped. He was big! He got in the bagel business with me. And an unbelievable story is I'm sitting here and I got a got a phone call and they asked for Jim Costello. I said "sure, who's calling please?" And the guy said Steve Forbes. And Jim said "yeah, that's Steve Forbes, of Forbes Magazine. We're good friends. We play golf all the time." And I said, "wow, that's pretty cool!"
What do you like most about being an entrepreneur?
I like opening up the store and seeing everybody coming in here and buying bagels.
Do you have any advice that you want to share with other entrepreneurs?
Smile. Smile a lot.
What do you love about this neighborhood?
What can you say bad about it? Doylestown is a completely walking town. When I lived in Newtown, I didn't even know my neighbors. Here I know everybody and everybody knows me. And you can walk down the street in Doylestown and say "hi" to everybody and they say it back. Not so much in other places.
What are your favorite places to go in the neighborhood?
I like MOM's, Domani Star, Penn Taproom, Mesquito Grill...
What are your favorite things to do in the neighborhood?
You can go to County Theatre, and you can go to the museums and then all of a sudden you can go right down to Wells park. I took the kids there so many times when they were growing up.
Why do you think it's important for people to shop local?
Why? Because local is what's the backbone of American society. Try to go into a mall right now. Malls are dying out for a reason because who wants to travel that far of a distance? I'd rather do all my shopping in Doylestown by walking the streets and having a grand ole time. And it's fun.That's why if you go to Peddler's Village, it's all outdoors. If you go to the Promenade in Saucon Valley, it's all outdoors. Why do you need to go into an enclosed building to go shopping? I'd rather be walking around outside having a grand ole time and get the sights and sounds and smells of what's going around.
Facebook: http://www.facebook.com/pages/Bagel-Barrel/121458154535127?fref=ts
Twitter: https://twitter.com/search?q=bagel+barrel