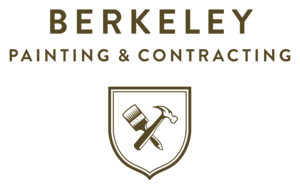 BERKELEY PAINTING AND CONTRACTING in Danforth Greektown and Danforth Village, meet the OWNER BRUCE POOLE
Interview with BRUCE POOLE
Describe your business.
So I run a painting, plastering and light contracting business. My strengths are fine interior house painting and plaster repair and most custom to working in homes that are occupied which requires a different skill set. This includes making sure furniture is protected, no spatter is on the woodwork and cleanup is done properly and often daily (even if the job requires several days work) without any mess or lingering tools and equipment laying around.
What made you decide to open this business?
Well, about 20 years ago I made a transition from what I enjoyed which was sales to what I love most which is working with my hands. Having something that I can stand back from at the end of the day and appreciate makes it all worth while. Also, I really enjoy the physical work, going from so to speak, white collar to blue collar give me a good sense of accomplishment and keeps me active.
What was it like when you first started?
When I first started I was quite surprised by having so many people I knew including friends and neighbours hire me for jobs because they heard I was in the business and knew they could trust me to get the job done. The winters in residential painting are typically a slow period, January to April so that was certainly an adjustment but the summers and the falls tend to take care of themselves and peak out during that time.
What has surprised you most when owning a business?
Well, I've been self-employed for the majority of my adult years so that wasn't really a surprise to me so I would have to say coming from a sales background and being proactive on 100% commission to being able to generate my business to 75% warm referrals was a bit of a pleasant change for me.
What would your customers say they love most about your business?
The finished product is excellent and my clients are happy with the result. Also, most customers will find that I'm a very down to earth person, easy to talk to and I make sure the cleanup is done properly while making sure all their possessions are put back as it was before, both on the inside and outside.
What's the most memorable experience you've had working with a customer?
There is not one thing that stands out. In general, it is gratifying to build a relationship with certain customers over many years. I appreciate their trust and loyalty. Also, first time projects including building a large beautiful cedar deck, a fireplace and kitchen and/or bathroom renovations.
Do you have any exciting plans for the future that you want customers to know about?
I am completely re-branding my business, from logo to website. I plan on expanding my business next year in order to take on bigger projects and get them done more quickly.
What is something most people don't know about the business?
That is okay to paint indoors in the winter because most paint doesn't smell anymore. Also, that I do contracting work including hardwood floor installation, carpentry work, tile work, and general handyman things including drywall, hanging, plastering, taping and the whole bit!
Who are some of your business idols and role models? And why?
Jim Pattison. Richard Branson. Anyone who has the courage to take a good idea and develop it into a sound business model. Also, J.K. Rowling who is not necessarily a business person but I like the idea of someone having put pen to paper and basically creating a dynasty because to me it's something everybody can appreciate but not everyone can do. Also, Greig Clarke who started college pro painters and ran it until I believe 1989 and gone on to do fantastic things with his life.
What do you like most about being an entrepreneur?
Well, I've always enjoyed working for myself and being my own "boss" and just bearing the fruits of my own labour as opposed to working for someone else. I always found more security in working for myself than working for others.
What do you love about this neighbourhood?
The diversity. There is a real mixture of cultures, friendly coffee shop owners and businesses. Workwise, it's nice that I have more and more clients that are within a 5 minute drive from my house.
What are your favourite places to go in the neighbourhood?
Celines Bakery. Asteria Restaurant and the Beach are just a few of my favourites. Also, I like the coffee shops that serve really good lunches and sandwiches. Lazy Daisy and I like Brickyard Browns but they just closed again... The Ritz also! It kinda looks deceiving from outside but it's clean and it's ran by people who have been in the restaurant business for 30 years!
What are your favourite things to do in the neighbourhood?
Go for a bike ride in the Don Valley. Build things in my garage like shelves and handyman stuff like repairs and renovations. Help friends when I can. Also, skiing is one of the things that I look forward to every year.
Why do you think it's important for people to shop local?
Helping your neighbours builds a stronger community. This applies to businesses as well as fellow residents.
Website/Blog: http://www.berkeleypainting.ca