Best Restaurants In Cave Creek, Arizona
Home to just 5,000 people, Cave Creek is a small town situated northeast of Phoenix. Though it was founded back in 1870, it was not officially incorporated until 1986. Despite its recent incorporation, Cave Creek has managed to become one of the most desirable areas of Arizona, boasting great schools, a strong sense of community, and best of all, a thriving food scene. From authentic southern barbecue to classic American diners, Cave Creek has it all.
Check out the 5 best restaurants in Cave Creek, Arizona:
Boasting "the last HONEST hamburger," Big Earl's Greasy Eats is a Cave Creek Institution. Though it opened in 2002, it quickly became a household name, known for its delicious burgers and full bar. Part bar, part diner, Big Earl's Greasy Eats serves up traditional American grub such as burgers, fries, and milkshakes. In fact, their burgers are what they're known for, as they pride themselves on the all natural hormone-free meat, fresh buns, hand cut veggies, and homemade mayo that goes into each and every burger. If you're not up for a hamburger, Big Earl's offers breakfast between 7am and 11am which includes the likes of breakfast burritos, egg sandwiches, and biscuits and gravy (they make their homemade gravy daily). Don't miss out on a classic meal from this popular Cave Creek eatery.
Given that you're so close to Texas, it's no surprise that Cave Creek is home to a delicious barbecue joint. Bryan's Black Mountain Barbecue (otherwise known as Bryan's BBQ) is a pillar of the community. They host live music nights throughout the week which often attract large crowds, ranging from families to couples. Plus, their menu is chock full of authentic bbq. Get your barbecue fill in the form of a sandwich, a specialty plate, or by the half pound - either way you won't regret it. Different meat options include barbecue chicken, beef brisket, pulled pork, pulled chicken, and pork ribs, while side dishes range from French fries and baked potato salad to six pack cowboy beans and their famous olive coleslaw. All dishes can be eaten in the restaurant or taken out, so be sure to get your hands on some grub from Bryan's BBQ one way or another.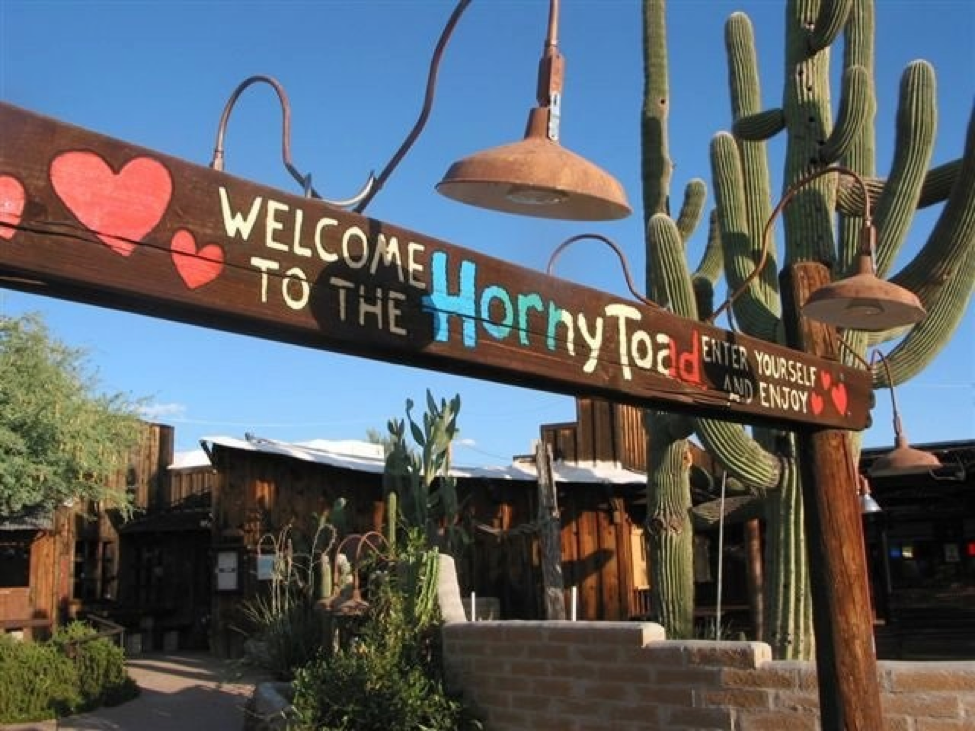 The Horny Toad, opened in 1976, is one of the oldest restaurants in Cave Creek. Owned by the Price family, this 'Wild West'-themed eatery has become famous for their homemade fried chicken and barbecue sauce, served either outside on the patio or inside their saloon. The simple no-frills restaurant has large sharing tables that are perfect for family get togethers or large parties. While you're enjoying the decor and sipping on a beer, remember to peruse the menu where you'll find everything from pork and beef ribs to mesquite grilled steaks. No matter what you order, be sure to leave room for their Strawberry Shortcake (awarded Best Dessert by New Times Magazine). In addition, The Horny Toad offers an incredible view of the Sonoran Desert and has been used as a film set numerous times throughout its history. Step back in time to the Old West with this themed restaurant and its scrumptious menu of southern classics.
El Encanto is Cave Creek's own upscale Mexican restaurant. Boasting authentic Mexican cuisine and decor, not to mention over forty different types of tequila, residents of Cave Creek are in for a treat when dining at El Encanto. Open for breakfast, lunch, and dinner El Encanto serves up everything from homemade guacamole and breakfast burritos, to tostadas, tacos, enchiladas, fajitas, and lamb barbacoa. Not only has it been voted Best Mexican Food/Restaurant by a handful of local and state magazines and newspaper, but it is frequently awarded the title of Most Romantic or Best Place To Pop The Question, owing to its romantic interior. Situated on a pond, guests can sit along the water under a covered patio and look out at ducks, turtles, and even a blue heron. Ultimately, El Encanto is the perfect spot to go for a date night with your partner.
One of the more unique eateries in Cave Creek, Arizona is none other than the English Rose Tea Room. Opened in 2002, the English Rose Tea Room is a hidden gem in Cave Creek and has continually won 'Best Place For Afternoon Tea' by Phoenix Magazine. The English Rose Tea Room has four choices of afternoon tea, ranging from the simple 'Cream Tea' that includes a small pot of tea, two scones, Devonshire cream, and jam, to the 'Duchess of Bedford's Formal Afternoon Tea' which includes the works (petit fours, scones, sandwiches, and tea). There is also a large lunch menu consisting of sandwiches, salads, soup, quiche, bread pudding, and even a ploughman's lunch. Finally, guests can choose from over twenty types of premium tea, such as blackberry and elderflower herbal tea and classic Earl Grey. The tearoom itself is decked out in frills, lace, doilies, and florals, and has a lovely shaded patio out back for those wanting to sip their tea outdoors. In addition to a wide selection of loose leaf teas, delicious baked goods, and homemade jam, the English Rose Tea Room also offers etiquette classes for boys and girls, given by the owner of the tearoom, Jo Gemmill.
Between afternoon tea at the English Rose Tea Room, authentic enchiladas from El Encanto, hormone-free hamburgers from Big Earl's Greasy Eats, and famous fried chicken from the Horny Toad, Cave Creek boasts an excellent food scene. No matter what you're in the mood for, visitors and locals will be able to find it in this small Arizona town.