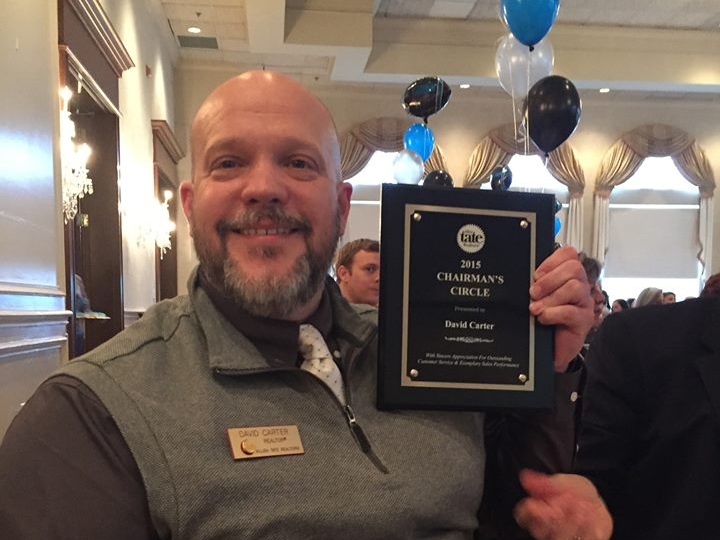 Interview with David Carter, your local REALTOR® for Burlington and Surrounding Areas.
What are your favorite restaurants in the neighborhood?
I have several favorite restaurants. Hotdogs and Hamburgers: Zack's Hotdogs is the winner. Always fast, consistent and a local favorite! Diners: Pano's is my "go to". The best hamburger steak and pork tenderloin. The slaw is the best! Local Steakhouse: Western Steakhouse is a tradition for me. I have been going there since I was a kid. Such good food! Johnny's KC steak , filet mignon, and the grilled chicken are what I usually order. Red Bowl: Wonderful Asian Fusion. Sometimes I just go to do samplings of appetizers and sushi. Prego's Italian is a wonderful fresh food experience. Nice atmosphere and wonderfully prepared meals.
What are your favorite things to do in the neighborhood?
I enjoy Burlington's City Park. I am in walking distance and I use it for exercise and for just getting out of the house. The Denzel Carousel and the train is lots of fun. Downtown Burlington has a lot of creative events that draw me there. From "A Dicken's Christmas" to the live music events, there is always something going on. I am very excited about the new Burlington Beer Works that is in the process of being funded through local members. They already have a great site downtown at Front and Main. Lake Mackintosh is a great day experience. You can rent a kayak, pedal boat or row boats. They have: Picnic Sites (with picnic tables and grills) Playground Open-Air Shelter (available for rentals) Lakeside Clubhouse (available for rentals) Pier & Bank Fishing Boat Ramps Cedar Rock Park provides a beautiful area for bike and walking trails. It is a not to miss destination. Cedarock Park is a 500-acre park located in southern Alamance County that enjoys more than 150,000 visitors annually. This expansive nature park was established in 1975 on the historic farm of John and Polly Garrett, and continues to serve the citizens of Alamance County and visitors with a wide variety of outdoor facilities. The park offers six miles of hiking trails, six miles of equestrian trails, two disc golf courses with a total of 36 holes for play, a historical farm restored to the late 1800s time period, two fishing ponds, a picturesque waterfall over an old mill dam, picnic shelters and gazebos, a basketball court, a volleyball court, a playground, canoe and kayak rentals, camping, and ample field space for open play.
What makes you stand out from other realtors?
I am a lifetime resident of Alamance County. My understanding of the area has been paramount in providing the best results for my clients. I take great pride in helping people find the best possible home for themselves and their family. I am a full time agent and I work diligently to represent my clients by providing honest and fair assessments of properties and how they can be purchased or marketed. My past experience working in a real estate appraisal office has helped me to have a deep understanding of local home values and I use that to price homes right the first time. These attributes have made me a successful listing and buyer's agent. I have a deep creative streak and a keen sense of the best way to market a property. It takes a special person to understand each property and what it can best offer potential buyers. I work hard to get that message out through social media, local networks, and by matching properties up one on one with those looking to make a move. Professional photography for new listings is among the most important parts of putting together a great marketing package. Because of my close connections in the local community, I have risen to the top of the local real estate market. I was awarded the 2014 Allen Tate Company Wide Rookie of the Year beating out all new agents in 47 offices across North Carolina. In 2015, I was the top producing agent in my office. The combination of my love of helping people and my deep understanding of the local market made that possible. I put those skills together to offer the best in real estate advice and experience.
Why did you become a real estate agent?
I saw that I had an ability to connect with people and understand their needs. With my understanding of the local real estate market, I saw how I could provide to others something they desperately needed. I am not just a real estate agent. I am an advisor and an advocate. I take great pride in that and I work hard to serve my community.
What do you do for fun?
I love antiques and auctions. Although real estate can be much more than a full time job (it certainly is for me), I do my best to enjoy travel, understanding antiques and learning about historic homes. I have a love for historic properties and the stories they tell about their past owners and the community. I enjoy many types of art (modern specifically) and have a deep affinity for the Art Deco period. My most recent trip was to NYC. It's one of my most favorite places.
What's your favorite piece of technology?
I love Facebook, Twitter, and anything to do with social media. That is where you will find me.
What do you love about this neighborhood?
Burlington, Elon and the surrounding area is home. I love the history of the area and continue to learn more interesting facts daily. As an Alumni of Elon University, so much of my life has been invested in this community. I am grateful to be able to give back by promoting the wonderful things it has to offer. Long Live Elon!
Website/Blog: http://allentate.com/davidcarter
Facebook: http://facebook/carterd37
Twitter: http://twitter/davidcarter1