Griggs Farm originally a chicken farm and apple orchard
Summary
The family founder of the business was Gil Griggs who moved to Billerica from Georgetown in 1943. At first it was a chicken farm and an apple orchard. Then in 1955 Gil stopped raising chickens and moved his focus to fruits and vegetables.

His son Billy went to school for horticulture and returned to the farm after college. He built the first greenhouse in 1981. Over time this has grown to 14 greenhouses with the last constructed in 992. The two of them ran the business together for many years until Gil passed away in 2005 at the age of 88.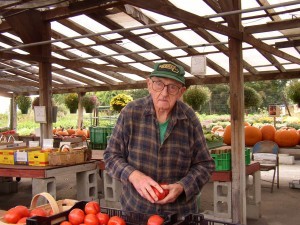 Describe your business
Today Griggs Farm is a 53 acre retail and wholesale farm growing a variety of vegetables, fruits, herbs, and flowers (both annuals and perennials). In addition, there is a 1.5 acre orchard with 8 varieties of apples available in the fall.

Whether you are a seasoned or amateur gardener, the farm's friendly employees have years of experience in agriculture and horticulture, and are always ready and willing to help you get your gardens growing.

Throughout the year, the Farm also host a number of festivals that cater to both children and adults highlighting the wonderful variety of seasons in New England.
What is something most people don't know about the business?
There are those who have moved more recently to Billerica who may not know the story of how the Farm nearly was eaten up by a big box store back in the 90s.

In 1994 Billerica Town meeting voted to assume a million dollar debt to preserve a portion of Griggs farm. By the 1990s the farmed had been hemmed in by retail malls as the town changed to become more suburban. And it was then that a big box retail chain announced plans to build on 33 acres that Griggs had been renting for farming. Gil solicited the help of The Trust for Public Land and rallied Billerica residents to protect the land. During that town meeting, member after member spoke to support the land's conservation to preserve farming and open space . And so Billerica saved its last farm!



.