Sing Your Heart Out! Meet Legacy Entertainment Owner/Operator Pam DuLong
Summary -
Pam DuLong has a wonderful karaoke show at Shenanigans Lounge in Grants Pass. For singers, the sound quality is amazing and you can hear yourself singing very clearly, which is very important. For newbies, it's not a scary place to get up and sing for your very first time. Pam's Legacy Entertainment company also includes many other types of services and special events. Find out more, and also learn about her interesting start in the entertainment industry!
Interview with Pam DuLong, conducted by local REALTOR® Sharon Lorraine, HomeQuest Realty.
Describe your business
My company is Legacy Entertainment. Along with karaoke, we also do mobile disc jockey, wedding events, fundraisers, proms, clubs and any type of entertainment events.
What made you decide to open this business?
I was singing in the industry for many years and decided, "why not make money doing it?" It's just a passion I've had since elementary and high school.
What was it like when you first started?
It was in Southern California and it was very difficult because it was like a dog eat dog world out there. You're a small fish in a big pond. And so working now for 30 years doing it, you realize the differences that upgrade your business, how to make it better. Every day I'm learning something new, and just always being there for the customer to provide them with the best service possible.
Did you work with any famous people in Hollywood?
We had a recording studio in southern California, and enjoyed working with the youth kids as well as adults in recording their voices doing A&R with them. A&R is basically taking the talents voices and shipping it to other artists. You could also take their original music, and for example ship it to a Shania Twain camp and they will listen to the voice and they'll listen to the song. If they liked the voice a lot of times they would hire the voice, or if they liked the song they would buy the song and the rights. And because of the recording studio we were able to work with Dick Clark on the show called Your Big Break!
Ever find any winners for Dick Clark's show?
Dick Clark's offices were in Burbank, California so we handled anything south of Burbank, and then he was kind enough to fly us all over the United States to scout talent in small pubs, big large Casino's, at Universities and we were just able to go out and scout talent because no matter where you're at here in the United States there's talent in every location. We had 12 singers on the first show, and the winner! And the second season we had 8 singers that we had scouted and just had a super fun time working with Dick Clark and his crew!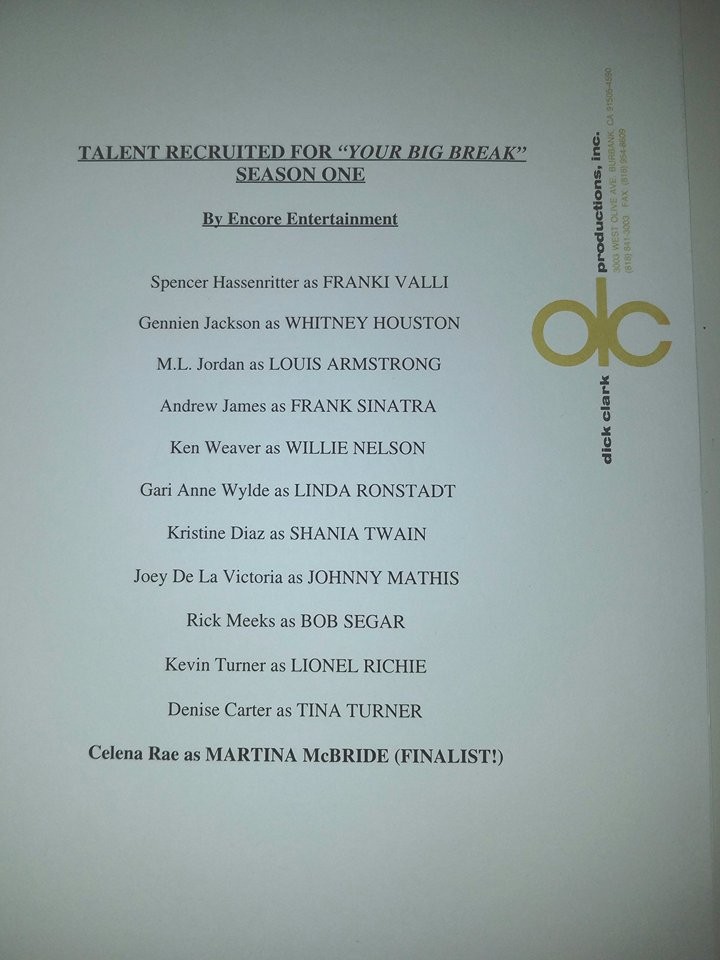 What has surprised you most when owning a business?
Just being able to be the best that you can so your service steps up and beyond the rest that's out there. There's so many people in this industry but you always want to learn from it, and grow.
What would your customers say they love most about your business?
The entertainment value, the library that we have. We have a very large karaoke library that we offer. The fun that everyone has. They are very interactive and they are the entertainment now!
Anything exciting going on that customers should know about?
We are currently running a karaoke contest at Shenanigan's Lounge the first Monday of every month. It's a $5.00 entry fee and it's a cash giveaway contest at $100.00 for first place. $50.00 for second place. $25.00 for third, and a $10.00 gift certificate for fourth place. At the end of the year, we're going to have a Grand Finale right before Christmas time.

What do you love about Grants Pass?
Oh my God, the people! I just immediately think about the people. They're so genuine and real. Also the beauty of this country all rolled up into this little tiny city of Grants Pass!
Why do you think it's important for people to shop local?
Local businesses are the backbone of what's run this country for years. Supporting our local industries in merchants and in services has always been my goal in life because these are hard working individuals, and they pride themselves much more than I think any Big Box would in providing a much more personal service.