I like working close, tight details- it suits my way of being.
Summary
Designer Lil McKinnon-Hicks doesn't apologize for the fact that her jewelry isn't for everybody -- she celebrates it. You must understand, every piece is designed for women who are larger than life – self-actualized, confident, and willing to live on no one's terms but their own. Whether you purchase a piece of Lil McKH Jewelry for a lifetime of wear or a once-in-a-lifetime event, it won't be long before you discover you're making a profound statement about your own eternal essence.
Describe your business
My business is handcrafted jewelry. I offer custom pieces, planned and designed in collaboration with each client. I work with silver, gold, enamels, pearls, precious & semi-precious stones.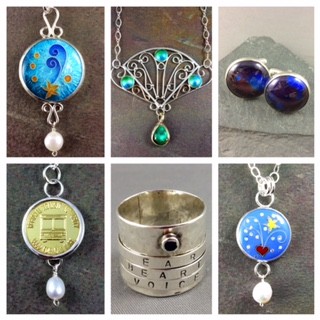 What made you decide to open this business?
I graduated from the University of Mississippi, with a dual B.A. in Journalism and Psychology. Afterwards, the Mississippi Museum of Art offered me a position as their marketing director, then I went on to work for a small advertising agency, later becoming the first Public Relations Director of the Mississippi office of KPMG. When I left there in 1992, I opened LIONHEART, a freelance public relations and advertings business that I ran for nearly 25 years. I enjoyed working on campaigns and writing projects for a variety of non-profit arts organizations, retail clients and political entities. However, I always felt as if there was something else out there, waiting for me … all the while, my husband laughingly called me an artist in search of a medium. And then, in 2003, jewelry found me when the pottery class I'd wanted to take was full, and instead I was slotted into a week-long intensive at Tougaloo Art Colony with master jeweler Ken Bova. This proved not only influential but a pivotal experience that opened the doors to colors and textures, torches and hammers. Everything I learned led to something more that I wanted to know, and surprisingly, to me at least, a new career began. As an artist, I'd finally found my medium.
What was it like when you first started?
SLOW....but that gave me a chance to explore, to study, to play and to learn. In just a few years, I hit my stride and built a very successful business in Jackson, MS, but we always knew we wanted to move to New Orleans. About 2-1/2 years ago, we made the leap and bought a home in Historic Algiers Point. I can laugh about it now, but at the time, I seemingly thought I would just pack up, move the house and studio, unpack and immediately get right back to work at the same breakneck speed. But life in New Orleans has so much to offer that settling into the studio and building up my clientele took a bit longer than I'd anticipated. Sure, I had repeat business from my boutiques, galleries and Mississippi clients, but building my New Orleans base took time and work. It's now 2-3 years later I'm hitting my stride again!
What has surprised you most when owning a business?
I have been an independent business owner since 1992 but Public Relations and Jewelry are very different businesses. The start-up costs involved with jewelry making -- the education, the equipment, the tools, the materials, the studio space – there's considerable overhead and a lot more cost involved.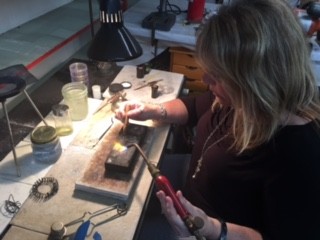 What would your customers say they love most about your business?
That I take my time to learn their story so that together we can create their vision. I believe that jewelry is very personal, sentimental and should always make the wearer happy. For that reason, custom work delights me -- it brings a person's a story to life and is a visible adornment, a symbol of that. As I work with my clients, I listen to what's important to them and then I translate that into metal and stone.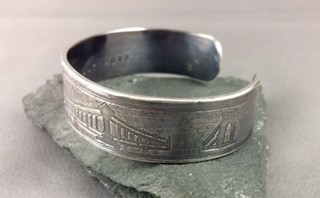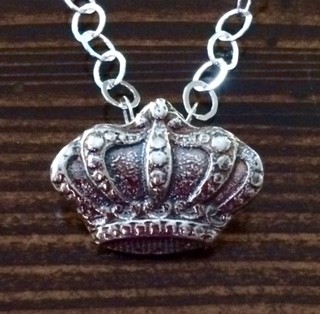 What's the most memorable experience you've had working with a customer?
I would say one of my biggest AHA moments came when I realized what the pieces of jewelry I create actually represented for my clients. I had one client for whom I'd made a custom ring inscribed with the names of her children and grandchildren. When she lost it one day and called me in tears, I realized in that moment, that for her, that ring truly represented her family. Her emotional connection to the piece was so strong and the thought of it being lost was devastating to her. I got her back into the studio that day, after pulling the paperwork I keep on each custom piece, and her ring was re-created and back on her finger almost immediately.
Who are some of your business idols and role models? And why?
I find the work of artistic masters, such as Faberge, truly inspirational. Browsing museums and seeing the silver, gold, bronze, and enamels of antiquity is both inspiring and intimidating.

As far as contemporary artists, I admire and respect those with whom I've been able to study, among them Ken Bova, Jim Richardson, Thomas Mann and a multitude of others who have so generously shared their knowledge, experience and skills. I'm a juried member of both the Mississippi and Louisiana Crafts Guilds, and through these organizations I've had the benefit of not only learning from more experienced craftsmen but also of being able to help those who are coming up and along.
What do you like most about being an entrepreneur?
The flexibility -- I control my own schedule. I don't run a retail store, but rather a design studio, and thus I can schedule my work and client appointment so that I can focus on what needs completing. Beyond that, I love working with jewelry clients because every day and every commission is different. My business is often a business of gifts -- and that's a joyful business!
Do you have any advice that you want to share with other entrepreneurs?
Don't wait -- do it! Granted, starting something new can be scary, but don't let fear stop you. Now I absolutely recommend that you carefully think about and come up with a solid plan for a new business because it WILL take longer than you think, so you must be prepared and make sure that you have the cash set aside to support yourself through any slow times. Beyond financial support, make sure you are also surrounded by emotional support. There's an old saying about having a tribe who will sing your song back to you, when you are at your lowest and have forgotten how to sing. We all need that tribe of friends and supporters who love and encourage us.
What do you love most about the neighborhood?
EVERYTHING!!! Seriously, there are many days when I pinch myself because I can't believe I am indeed living here and this is MY neighborhood. I love the proximity of everything when I walk out the door of my house or my studio. Algiers Point is so very diverse, and at any given time when I'm at the neighborhood pub I hear at least three different nation's accents – how cool is that! I appreciate that I have dear friends here of all ages, from 25-85, with their different points of view. And I love the history of the neighborhood. My studio is located in an old neighborhood corner store, its most recent history being that of Bobby Daigle's Grocery Store, but even before that it was his wife's family's store. So yes, for 100 years, this little storefront has embraced a community-minded business, mine is simply the most recent. I feel there is so much here that simply doesn't exist in other places -- the tight-knit sense of community, the support of the neighborhood, and the 'joie de vivre' of the people who live here. It's a very happy place.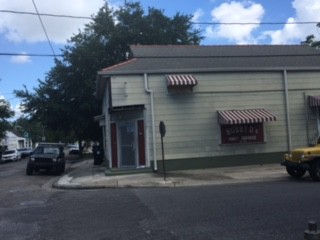 What are your favorite things to do in the neighborhood?
Get together with girlfriends -- I have made so many since moving to Algiers Point. My husband, Steven and I also love to cook and entertain.
Why do you think it's important for people to shop local?
Local businesses are independent and when each of us shops local we are investing in the businesses here, which are then investing in our community. The local business owners here are your neighbors, and when you shop with us, you're supporting families who have made a conscious decision to live and grow here!