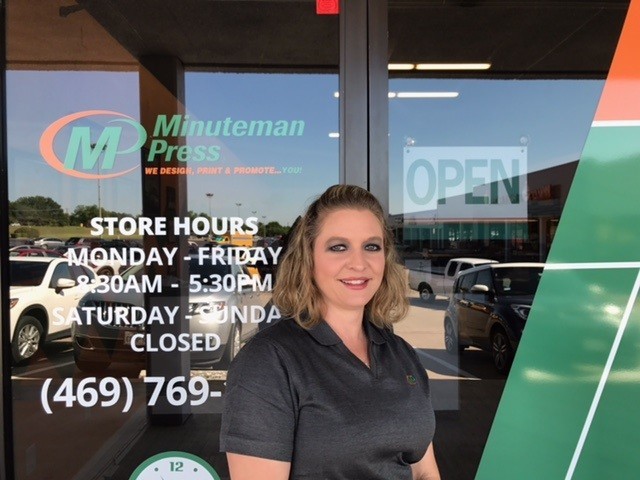 Minuteman Press in Rockwall, meet the Owner Erin Ragsdale
Summary
Erin enthusiastically took on going from being a Teacher to entrepreneurialism , and her pride in ownership of Minuteman Press shined through! The thing that struck me about the business is how much you can actually have done from a print marketing standpoint. Give her a call and find out, you will be glad you did!!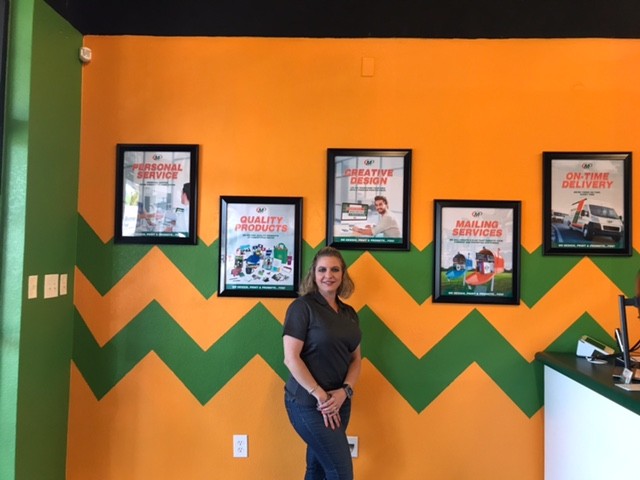 Describe your business
We are a digital print shop, so anything you can put your name and logo on, we can print. We do design work, help market businesses, direct mail, flyers, business cards, banners, and just about anything you can think of, should be a way to print it.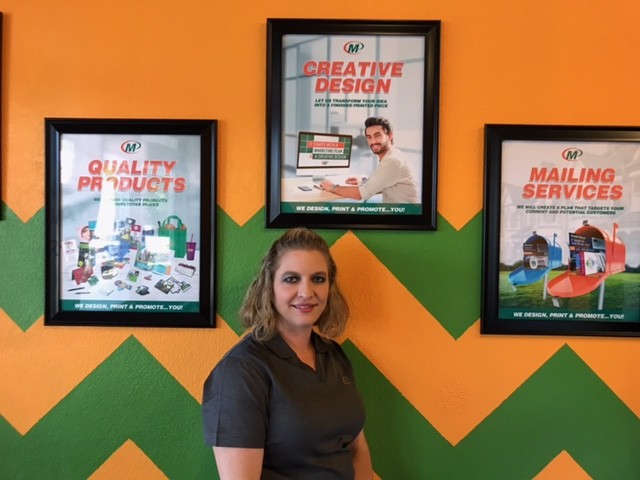 What made you decide to open this business?
My husband and I always wanted to own our own business. This was just a perfect fit, and I was a teacher before.
What was it like when you first started?
Stressful, but the community has been very welcoming so that is a positive. It hasn't gotten to the point where it has been too overwhelming yet, since we just opened a few days ago, but people are coming in and the phone is ringing, so things are starting to fall into place.
What has surprised you most when owning a business?
There has been a lot of odd requests, and things you just wouldn't think of. I originally thought about basic stuff, but customers have been way out there with requests, so it has been challenging figuring it out for them.
What would your customers say they love most about your business?
So far I would say customer service. We have had a few requests where we couldn't get done what they needed, usually because it was a same day request. Or the cost was more than they thought it was going to be, but in the end they said they would refer everyone to us because we were so nice and worked with them.
What's the most memorable experience you've had working with a customer?
Actually our very first set of business cards that went out, because she was so excited about them. She came in with ideas and notes on paper and we were able to put it together and when see saw them she was so excited.
What do you like most about being an entrepreneur?
I get to set my own schedule, which is great! I get to put my own ideas into play, versus rolling out what someone else has asked me to. Then with having the two kids, we get to go to practice and we get to go the weekend events. I am sure I will be able to add this list as we go, but this is it so far. We are very family oriented, and the kids are everything.
What is something most people don't know about the business?
I think they are really surprised about some of the things that we can print. They will walk in and ask a question "can you do this or that?" Then they are a little surprised when we say "oh yes, we can do that."
What do you love about this neighborhood?
Everybody is so wonderful and super nice. All my neighbors were so excited when we first opened and everyone has been so pleasant when they come in. It is just a nice community to be in.
Anything exciting going on that customers should know about?
I want to be involved in the community as I have two little ones, both play sports. We want to get involved , and get our name out there and be involved community wise.
Do you have any advice that you want to share with other entrepreneurs?
If you don't act on it, it is not going to happen. If you have a dream or a goal, you just have to keep pushing through. If you run into obstacles, you just have to keep going and get past them and once you do it will pay off.
Where are your favorite places to go in the neighborhood?
We frequent Pizza Cucina and Arbeduelos since they are right in the same area! We like to stick to this little area for sure.
What are your favorite things to do in the neighborhood?
We go to the Y to watch my daughter play soccer and then my son plays lacrosse, so we are at Cain or Williams for that. Then the library, we love the library here.
Why do you think it's important for people to shop local?
I think it helps us grow as a community. I think you will get better service and if you need something quickly, you are more likely to here locally.