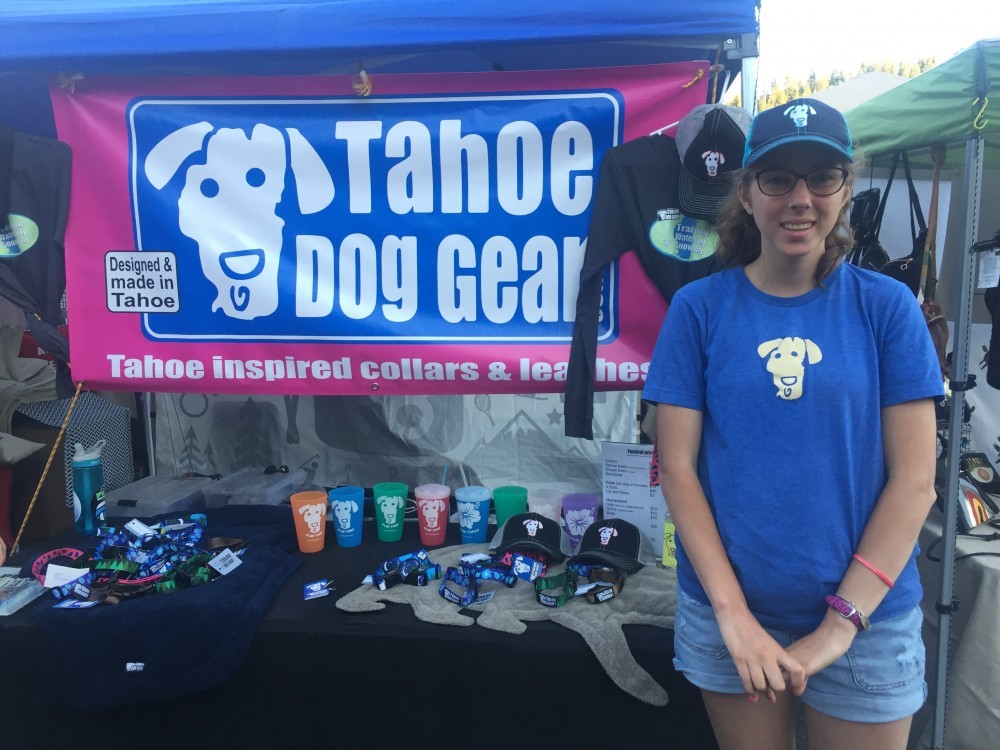 Tahoe Dog Gear in Truckee, meet the Owner and President Michaela Welch
Summary
Twenty-one year old Truckee High School graduate and UNR student Michaela Welch, is quite the inspiration! Michaela was born with severe bi-lateral hearing loss, Cerebral Palsy and cognitive impairment. Due to her disabilities, her dad, Mike Welch, wanted to create a business opportunity that Michaela could own & operate with the support of her family. Michaela loves animals and is learning her way towards becoming a Veterinarian Assistant, so creating a business for the love of dogs, was the perfect idea. And so became Tahoe Dog Gear!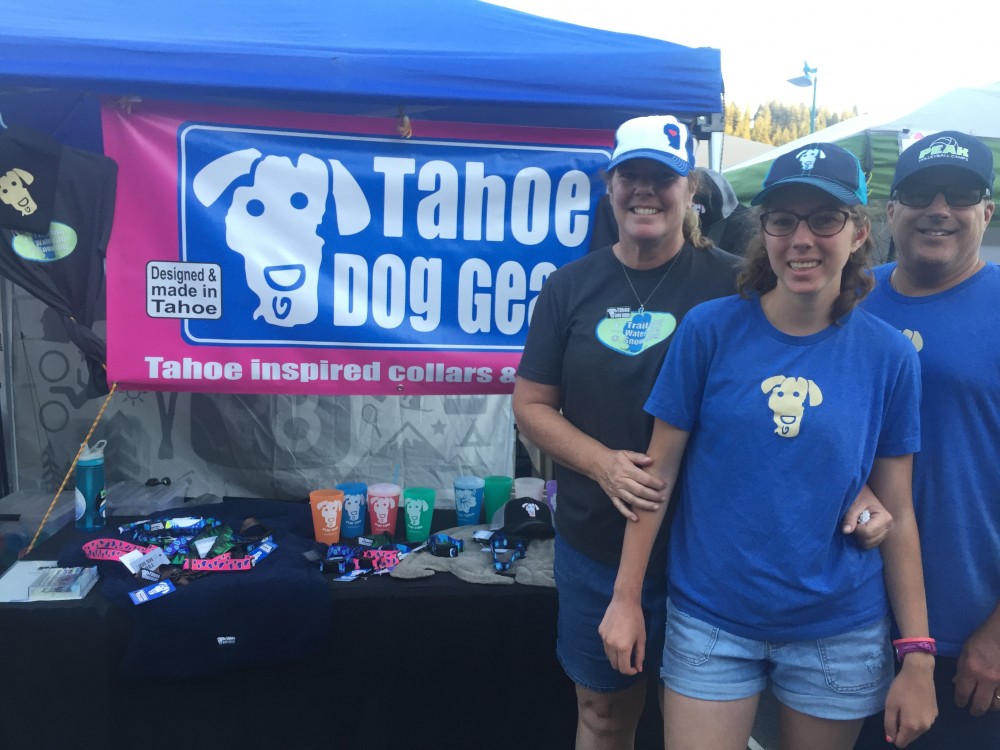 Describe your business
Tahoe Dog Gear sells super fun Tahoe & nature inspired dog collars, leashes, human belts & hats, silicon pint classes, and travel size dog beds.
The logo & graphics that you see on the leashes have all been designed by Michaela's dad, Mike. The artwork is sent out for manufacturing of the webbing, which is heat sublimated into the fibers, and then assembled locally here in Truckee!
What made you decide to open this business?
Michaela's parents wanted to find a way for Michaela to have the opportunity to be productive and an active contributor in a business environment. So by creating Tahoe Dog Gear, Michaela has a ownership, makes decisions, and learns the ins & out of owning her own business. As a developmentally disable person, it gives her a purpose and a vocation by working in the field that supports animals, which she loves!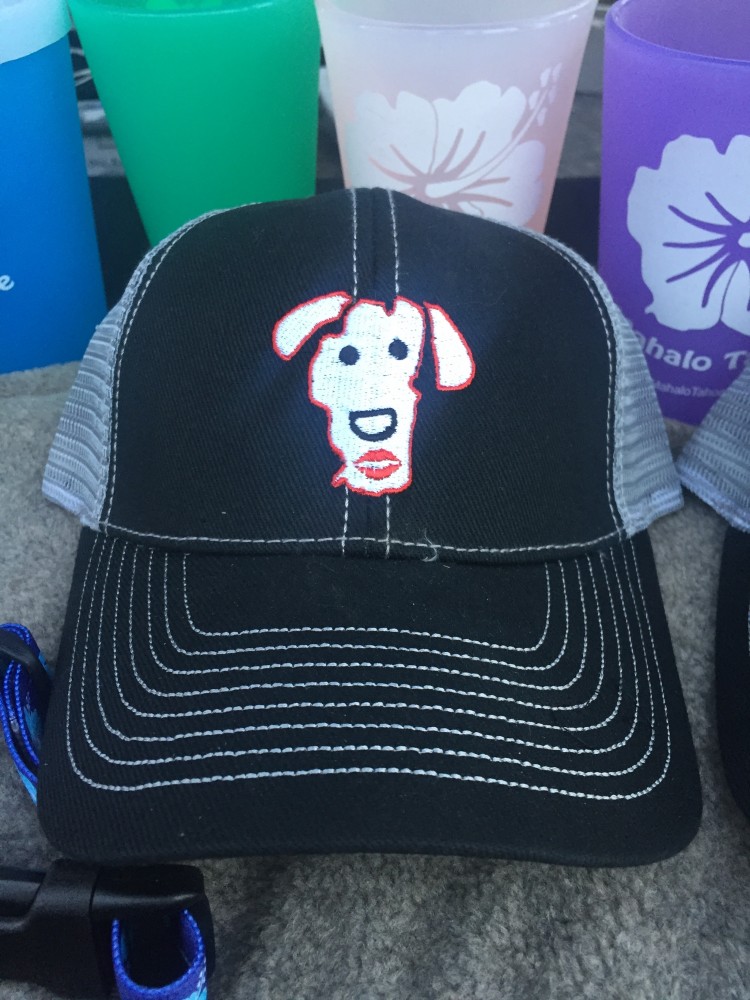 What was it like when you first started?
It was fun helping her dad make the graphics for the material and all the design decisions. They started out at the Tahoe Made Festival in Squaw Valley, and quickly learned the demand was high for their product! They also learned fast, that making the collars & leashes on site at their booth with their own sewing machine was challenging and time consuming. So they ultimately hired a local seamstress to do the assembling and to increase our inventory.
What has surprised you most when owning a business?
Michaela: It's rewarding because we get a lot of repeat customers who love our products. It is a lot work getting the product ready for assembly, tracking inventory...that's the boring stuff. The fun stuff is going to festivals/open markets and meeting the customers and their dogs!
What would your customers say they love most about your business?
Our customers love the designs! They love supporting Michaela and her efforts and desire to succeed. People are very patient when meeting Michaela at their booth when they are set up at various events. Once people learn about Michaela, they always want to support her efforts. She's a great role model & inspiration for other people with disabilities!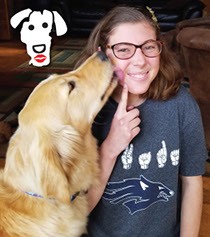 Do you have any exciting plans for the future that you want customers to know about?
Our hope is to get into more retail stores around all of Tahoe and into Reno. Currently you can find Tahoe Dog Gear at Mountain Hardward/ACE Hardware here in Truckee! We would love to see our product involved with the Humane Society of Truckee Tahoe, because Michaela has been a volunteer for them.
What is something most people don't know about the business?
The collars are made of a polyester webbing, so they are quick drying and ideal for dogs who like to get wet! Built for your Tahoe Dog! Typical nylon collars absorb water and can get stinky after a few months. The light weight & soft fibers of our collars make it comfortable for your dog!
Who are some of your business idols and role models? And why?
Michaela: My uncle Tom is a Veterianarian in Southern California, and I have done internships with him and shadowed him during procedures with various animals. His vet tech, Katie, would help me brush and extract dogs teeth, and teach me proper bandaging & care.
What do you love most about the neighborhood?
Our community provides a lot of opportunities for small businesses and artisans to share their products and work, with festivals & events like Truckee Thursday, Made in Tahoe, Tahoe Donner Fall festival, etc. Truckee is the best great dog friendly town! Hanging out at dog beach at the East end of Donner Lake with all the dogs and friends is great! Our dog Cruz LOVES to swim at Donner Lake.

This is me, Kari the blogger, hanging with Michaela at Dog Beach!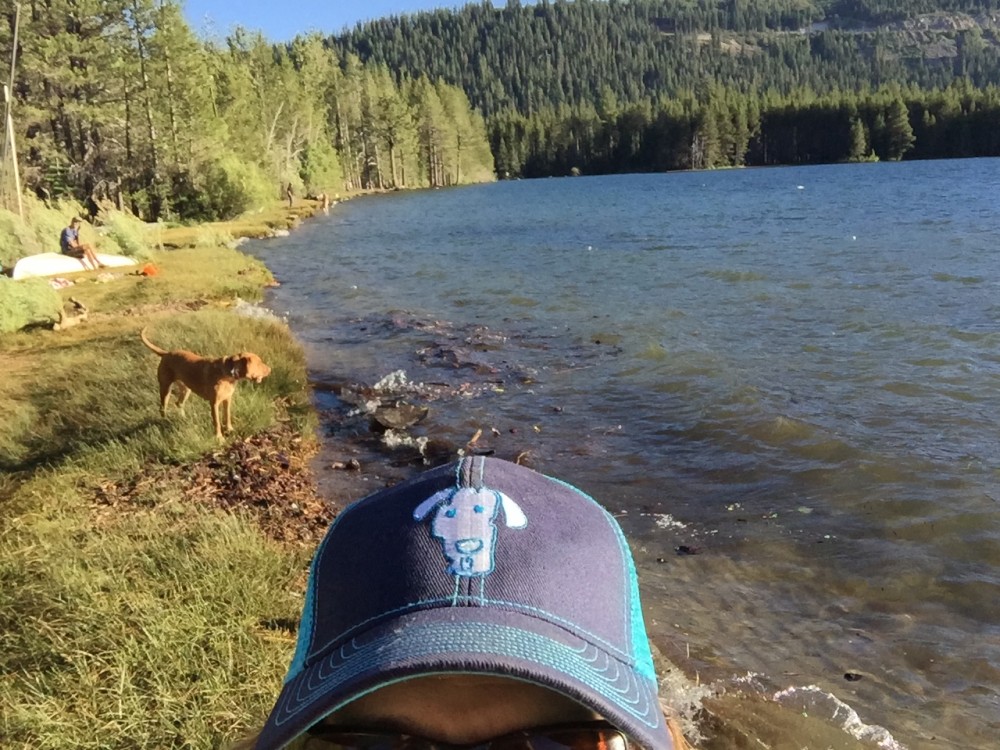 Anything exciting going on that customers should know about?
Michaela: I am attending the Path to Independence Program for Developmentally Disabled College Aged Students at UNR. During the school year, I live independently in a house with fellow classmates in my program. We have so much fun together going to sporting events and movie nights at the student union. It feels great to have a true college experience like my peers! Last year, I started my "Kiss for Independence" website, www.kissforindepence.com, to help fund my college program at UNR. So with the help of Tahoe Dog Gear and Kiss for Indepence, I am able to achieve many personal and professional goals! I also work at Canine Country part time, because I love dogs! Check out Michaela's story on YouTube!
https://youtu.be/fQ2UOGzRd_0
Where are your favorite places to go in the neighborhood?
Jax on the Tracks is one on my favorite places eat, because I love their milkshakes! I like to Paddle Board and swim at Donner Lake. I love to run the new bike path behind Cyote Moon. I love to go hiking with my golden retriever, Cruz.
Why do you think it's important for people to shop local?
It's great to support local business, especially us small business owners. We're all family here in Truckee!