Thai House in Cameron Park, meet the Owner Robert Adorjan
Describe your business
We have a full service sit down Thai Restaurant. It is located in Cameron Park California. It used to be another restaurant, it's been out of business for two years. So we came in and got a good lease arrangement with the owners of the building. We came in and refurbished it from Mexican to Thai style restaurant, using furnishings and decorations from Thailand. I'm a building contractor so I did the work myself. My girlfriend did the staining and decorating, placing the items around.
What made you decide to open this business?
I had been in construction for a long time, For over 40 years. During the recession I lost everything. I was working up in Tahoe the last 5 years and I had a building up there. I was going to a Thai restaurant where I met Guy. She was working there, so I was eating there and got more and more involved with her and realized I really like the restaurant business. They started asking me if I wanted to help after my other job. So, I would go in in the evenings and work in the restaurant and got more involved and started talking about buying the restaurant from the people that owned it. They decided they didn't want to sell it. So, I was finished with my job up there and decided to go home and see what I could find down there. This space was available so we got the lease and refurbished it. A lot of the staff from the Tahoe restaurant is moving down to join us here.l
What was it like when you first started?
It was a lot busier than I thought it would be. We had friends that opened a business in Reno. They had probably 3 people come through the first week and we were 2 of them. So, that is what I expected. We didn't do any advertising at all. There was just 3 of us, so I didn't want it to be busy. We didn't do any promotion or grand opening. We just opened low key, turn the sign on. We were quite busy that first week and the next week was even busier. The third week even busier. It is growing. We had to bring on more staff. So, we're hoping to get enough staff to really service people when it gets really busy. Valentine's day was out of control. It was so busy we couldn't keep up with it. It was full almost right away. Which was the first time we experienced that. Our goal is to make people happy and to service them correctly and make sure that when they leave they are happy that they came and I didn't feel that way on Valentines Day. The food is always really good. Regardless how busy we are, it takes time to prepare, and everythings made fresh to order, and even though it might take a while to get to the table, people say it was worth the wait because it was really good. And then they come back. We are growing.
What has surprised you most when owning a business?
Being in the construction business for so many years really nothing much surprised me. In the restaurant business, I had heard that it was going to be expensive, that there is not much profit margin there. So, it hasn't been too much of a surprise. I guess that I'm a little surprised of how difficult it is to obtain a wine and beer license and all the other business parts I knew about that takes a long time to get set up with the government. I was also surprised how easy it was to go through the building department and how great it was to work with them. I've been building a long time and have done projects in different counties where it is very difficult to get a permit. El Dorado County is tremendous. The people up here in the county were great to work with .
What would your customers say they love most about your business?
The food. They like the decor in here. They feel at home. They like coming back and feel comfortable to stay late. We have a lot of customers that will just sit for a couple of hours. One lady came in last week and was doing her homework, I told her she could stay as long as she wanted. She sat there for about 3 hours and she was comfortable doing that. That is what I like. I like people to be able to come in and not feel like they have to rush out. If there comfortable sitting here, that's a good sign for me. It let's me know that the atmosphere is inviting and feel kike they are at home.
What's the most memorable experience you've had working with a customer?
About 1 1/2 weeks ago a big family came in and sat at the big table. They called ahead and said they had a boy that was just getting out of the hospital that just had surgery and he is in a wagon, so they needed a place that would accommodate him and another girl in a wheelchair. So, we were able to accommodate them. The boy must have been 5 yrs. old, told me his name. He was so cute. He had surgery on both his legs and he was the sweetest little guy. I brought him different things like crackers, and talked to him quite a bit. That was really neat. I'm a kid person anyway, so to see that and his spirit was so uplifting. He wasn't feeling sorry for himself at all. He was just happy to be there. That was really cool.
Do you have any exciting plans for the future that you want customers to know about?
We are planing to open the outside patio when the weather permits. We have an outside eating area. We are going to talk to customers about it, but we want to have it open for dogs. If you want to bring an animal out there. Of course we allow service dogs in the restaurant. So the outside will be fun. We also have plans to change the lighting in here and make it more comfortable. Add some drop lighting. That will be much better than the current lighting we have.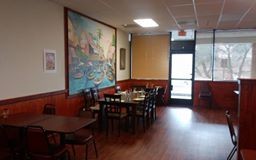 What is something most people don't know about the business?
A lot of people don't know that Guy just got her citizenship and will be sworn in on March 29th.These recipes are primarily hers. She has trained cooking staff to cook. She also cooks but I would eventually like her to be on the floor with me greeting customers. We're also excited to have more staff coming on board to help serve the public better. She has gone through culinary school in Thailand. That is what they do there, a lot of them are trained in the service industry. She worked in a big hotel there, so that is where a lot of her training came from. Her mother also was a cook and learned a lot from her. Some people are born with a gift to cook, like some people have a green thumb, well she has a gift for cooking. She'll just make things up. Par of it is formal training but a lot of it is just intuitive. It's a gift.
What do you like most about being an entrepreneur?
Making people happy. I like serving people and having them happy that they experienced our restaurant. In my construction business I was the same way. I liked to make sure my customers were happy and satisfied with the work I did, It carries over into the restaurant business.
Do you have any advice that you want to share with other entrepreneurs?
Be patient about criticism and don't take it personally. Because your never going to make everyone happy. We've gotten mostly 5 star reviews on Yelp and other sites we are on, but every once in awhile you get someone who might complain about the decor, the lighting is too harsh or didn't like the flavor of the food, but I responded to them, thanking them for their input. and I wish I could have tasted the food they had to see if there was a problem, because we certainly don't want to make mistakes like that and have people unhappy and I hope they will give us another chance. Sometimes it just comes to taste. Everyone has different tastes. Just like we have Ford's and Chevy's.
Where are your favorite places to go in the neighborhood?
I'm a musician, so I like to go out to the park and play my instrument. We like to eat out. When we had more time we would go to Papa Giannis and eat there and stay late, having dinner and wine with them. The people are tremendous here and very supportive.
Why do you think it's important for people to shop local?
You shop local and others shop local. We support each other. It's not a tourist town like Lake Tahoe. Business get a lot of support from the locals. You don't have to drive far away and why not support the people in the neighborhood.