The Canadian Brewhouse in South Edmonton, meet the General Manager Patrick Kehdy
Website/Blog: http://thecanadianbrewhouse.com/
Facebook: http://thecanadianbrewhouse.com/facebook/
Twitter: http://thecanadianbrewhouse.com/Twitter/
Instagram: http://www.instagram.com/thecanadianbrewhouse/
Summary
Welcome to The Canadian Brewhouse! Let us introduce ourselves and get to know each other! The Canadian Brewhouse started in Alberta in 2002 with one location that has since grown to 22! Fifteen of our locations are in Alberta, including; the Edmonton area, Grande Prairie, Lloydminster, Red Deer, Camrose, Fort McMurray, Calgary, Okotoks and Airdrie! We also have locations in Regina and Saskatoon, Saskatchewan, and Winnipeg, Manitoba! We opened our first Canadian Brewhouse & Grill location in Kelowna, British Columbia in 2015, and are continuing to expand in BC; Abbotsford opened in 2016, and 3 more BC locations are planned for 2017! In fact, The Canadian Brewhouse, and The Canadian Brewhouse & Grill will be growing for many years to come. Our one-of-a-kind Canadian themed sports bar & grill has an extensive menu of appetizers, entrees, drinks and amazing specials every night of the week. You'll note our Canadian decor starts right when you walk up to our huge Inukshuk at our doors and continues throughout the restaurant in a "cheeky" Canadian fashion. We promise, when you come to The Canadian Brewhouse, you'll instantly feel at home, because our house is your house…only we have way more TVs! You won't find a better selection of screens anywhere for the sports you love! We even provide tabletop speakers for those nights when multiple sports and teams are playing. We also believe being part of a community means giving back. We've been raising funds for various charities through events and fundraisers for over 10 years. Charities like The Stollery Children's Hospital Foundation, Breast Cancer Research, Prostate Cancer (Movember) and many local initiatives that are important to our neighbours in various communities. Our house is your house, The Canadian Brewhouse
Why did you decide to work here?
Its all because of Ian Scott. He actively tried to recruit me for almost two years. After that it finally dawned on me that it was probably the perfect place for me. I get to be around for all the sports any person can handle, I get to throw parties for people to enjoy, and best of all I get to talk to so many great people. It really is the perfect fit for me.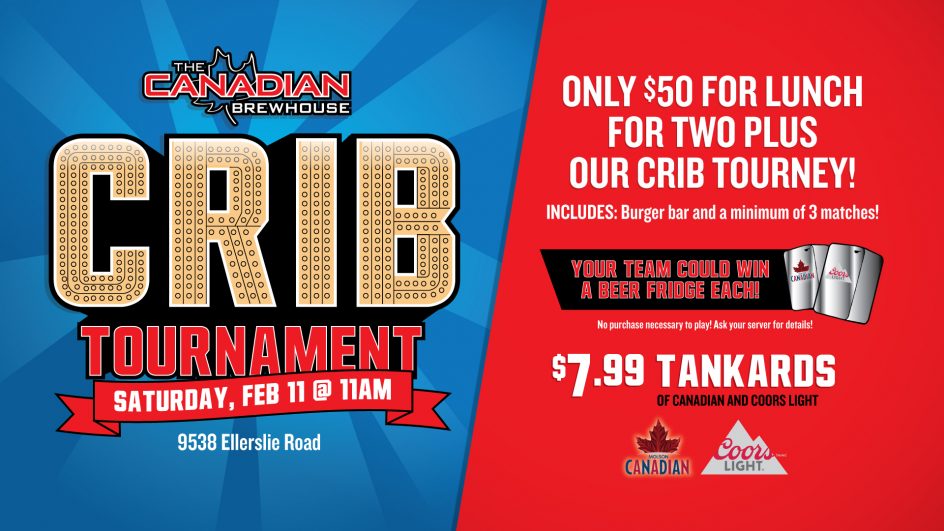 What has surprised you most while working here?
The generosity of the City of Edmonton. The support they have shown the community over the years, raising funds for all types of cancers, The Valley Zoo, Edmonton Police Department, The Fires of Fort Mac. It is truly a reflection of what makes this place the best, it truly is the people that come here.
What was it like when you first started?
Honestly, it was tough, it was an industry I was just learning about, being a big dude behind a small bar as a challenge in and of itself! I was working with people with combined time in the industry and behind the bar of sometimes up to 50 years it seemed. After about the 3-month mark with the support of my team and the entire staff of The Canadian Brewhouse, I learned the industry inside and out and I could not thank everyone enough for helping me become the manager I am today.
What do customers say they love most about the business?
The selection of sports we show our awesome drink selection and the food, which we are always re-inventing. Have you tried any of the menu items with Braised Beef? If not you should.
What is the most memorable experience you've had working there?
It was without a doubt the Sochi Olympics when our hockey team took home the gold medal. It was -40 outside, 4am start, and the bar was packed, there was literally no room for anyone else, it was the greatest atmosphere and will most likely be one of my best memories I'll ever have working here. Until we win our next gold.
Why do you think it's important for people to shop local?
I know for a fact, that a lot of our clients and friends are local business owners, and without them, we wouldnt be able to do what we do. So for me shopping local is essential to helping build a strong community and to help support everyone that supports myself and The Brewhouse.
What separates you from others in the Industry?
Everyone in this industry has the same goal at the end of the day. However, I think I have the ability to make people feel like they are apart of what we are doing. I really enjoy making sure everyone is having a good time. And I think that authenticity is what truly sets me apart from others.
How long have you been with The Canadian Brewhouse?
Well, it's been a while at this point, I think it will be 5 years as of January 27th. Wow, time really flies I can't believe it's been 5 years.
Is it true that you are a huge NY Jets and Yankees fan?
Your damn right! J-E-T-S!