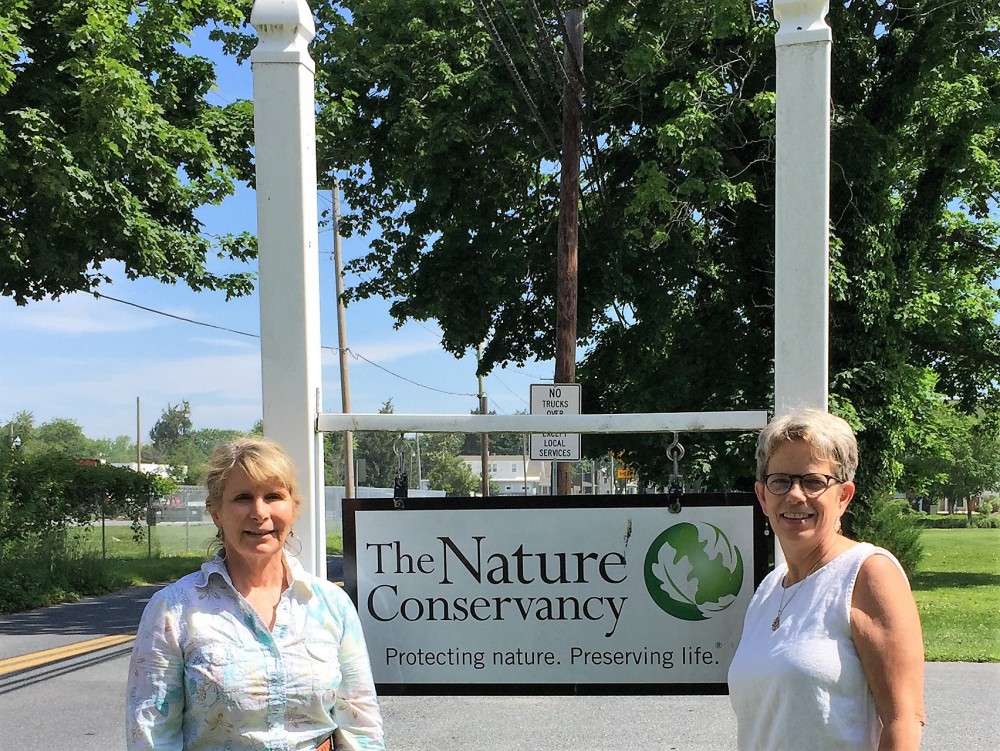 Director of Conservation, Sarah Cooksey, with The Nature Conservancy loves her work!
Summary
Thank goodness the Director of Conservation, Sarah Cooksey, with The Nature Conservancy (TNC) loves her work because the state of Delaware benefits from her and others commitment to conserving our land and waterways. I sat down with Sarah and talked about her work.
Our mission is to conserve the lands and waters on which all life depends
That we use science and integrity to make decisions and that we protect our land and all bodies of water.
That there is a TNC Chapter in all 50 states and that we are the largest conservation organization in the world.
Why did you decide to work here?
I have always loved nature and TNC's values align with my personal values.
What was it like when you first started?
I was super excited. I had a lot to learn in going from state government work to a not-for-profit organization. Everyone was so helpful and positive and dedicated that it made the transition as smooth as possible.
Who do you collaborate with in the state?
Partnerships are extremely important to TNC. Conservation is a continuous effort and we must work with other environmental NGOs (non-governmental organizations), businesses, all levels of government and the public on our mission to protect nature. Two of our close environmental organizations are the Center for the Inland Bays and the Partnership for the Delaware Estuary – our work overlaps on climate change issues and restoration of forests and wetlands. We are pragmatic, not partisan. We believe there is common ground with all entities. The Delaware Department of Natural Resources and Environmental Control, Department of Agriculture, U.S. Fish and Wildlife and USDA partner with us to improve water quality, enhance forest protection and restore habitat. Private Foundations such as the William Penn Foundation, Mt. Cuba Center and the Longwood Foundation have supported major efforts to protect important lands and finance water quality improvements on private lands.
Tell me about the Dogfish Dash that TNC benefits from.
Dogfish contributes the proceeds from the very popular "Dogfish Dash" to the Delaware Chapter of TNC. It is scheduled this year for Sunday September 24th and interested runners need to register early, the 5 mile race has a cap on the number of runners. There are other fun activities such as a costume contest, music and food. Dogfish does a great job thinking globally and acting locally. https://www.dogfish.com/dash/about
What has surprised you most while working here?
How much land we're responsible for in Delaware. I know TNC had some major properties that we out-right own in fee simple, but I didn't know how many conservation easements we have on other properties. Also, how we depend on like-minded individuals and foundations to help finance our work.
What is the most memorable experience you've had working there?
In the short time that I have been here I have learned a lot about turkeys! We have them on most of our properties. Turkeys are very secretive and hard to see. Fortunately, their recovery has been a wildlife success story and I saw five flying by just off Route 5 outside of Milton. Super cool.
What do you like most about being a leader?
When my employees succeed. I know it has more to do with them but it makes me very proud.
Do you have any advice to give aspiring leaders?
Follow your heart and listen. Trust your gut and try your best to do the next right thing. Get a mentor. When I struggle with a decision I try to fast forward in my mind to five or ten or even twenty years into the future. What do I wish I would have done today that would make a positive impact in the future? Sometimes that gives me the strength to implement a hard decision.
What does the future hold for your organization?
We are working to incorporate people more into the land(s) we are working to protect. We have a new approach due to a better understanding that involving people into the projects per se, rather than keeping them on the perimeters, actually encourages greater participation and strengthens accountability in partnership of protecting the land.
What do you love most about the neighborhood?
That you can be very much in nature within the town of Milton and the neighborhood is very walk-able. I'm always impressed with how quiet the town is in spite of some of the trucking and large machine companies that are operated out of Milton.
What are some of the businesses you use and things you do in Milton?
I go to the Happy Cow for coffee and lunch. I've always gone out to Pepper Greenhouses they always have great things and are very helpful. I use PJ's Auto place for my car work. I've used Tidewater Physical Therapy when I needed it. They were great to work with.
I love to hike the McCabe Preserve out off of Round Pole Bridge Rd...one of my favorites. When I have time I just love to walk the town of Milton...there's really a lot to see. It's a great town. There are many places...
Why do you think it's important for people to shop local?
Shopping local is good for the environment. People don't drive as far. Purchases are more meaningful and it builds community.