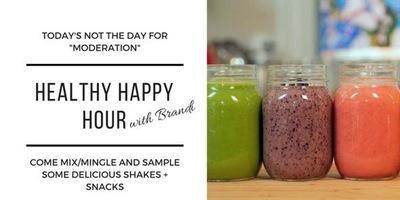 Healthy Happy Hour with Brandi
Date/Location: March 21, 2017, 6:00 pm to March 21, 2017, 7:30 pm | solana beach, ca, 92075
Venue: Private Residence
Contact info: Seek + Nourish
Details on our fun night out!
What: Healthy Happy Hour When: Tuesdays 6pm - 7:30pm Where: Private residence, Solana Beach RSVP: here on FacebookCome and learn all about this amazing Superfood nutrition company that is the leader in nutritional cleansing and providing solutions to transform lives. Whether your goal is weight loss, healthy aging, energy and athletic performance or even wealth creation, I can help you reach your goals! These products are 100% natural, organic and made from the highest quality, responsibly sourced ingredients. Nothing artificial, no harsh stimulants and 100% undenatured whey protein from grass-fed New Zealand cows! This night is for you if :::

~you are interested in learning more about our amazing, delicious products and supplements. having more energy, lose weight and feel your best every day! I know that the systems work, my family and I USE them everyday and are here to help you get the most out of using the products! ...you would like to find out more about the business opportunity and how you can get your products paid for! Once you start using the products, it's hard NOT to share your story with those around you. Take a look at one of the most generous compensation plans in network marketing, making it easy to get your products paid for and maybe even earn an additional monthly income! Sample products, see what products are best to help YOU reach your personal health and wellness goals and ask any and all questions! This will be a fun and relaxed night out!. Bring a friend and enjoy our "Healthy Happy Hour" together! All are welcome! Please be sure to RSVP so that we can be sure to have enough samples for everyone. We'll see you soon! Please email Brandi at seekandnourish@outlook.com with any questions!